Working from home not only saves money but it also saves time. Having a regular job (Just Over Broke) opportunity might be what you need right now. You are going to have to have a quiet designated space to work plus high-speed internet access and of course a computer system.
Most of these companies will offer benefits including health insurance and retirement plans.
The problem is don't expect the pay to be high. Getting to work from home is a privilege, and most of these companies pay accordingly.
I have worked in these positions and to be honest, it is very nice not to have a commute plus the savings of not driving across town is a big plus.
The negative it is still a job, and you are still expected to perform.
Again the might be the perfect opportunity for you as it was for me a few years ago. Having corporate benefits especially health insurance was nice.
On this page, we will be posting new work from home jobs regularly so be sure to bookmark and check back often. If you want to work from home, you have to apply to these positions quickly. Most will be call center centered. Having excellent phone skills is a must.
Wayfair Work From Home - 06/11/2019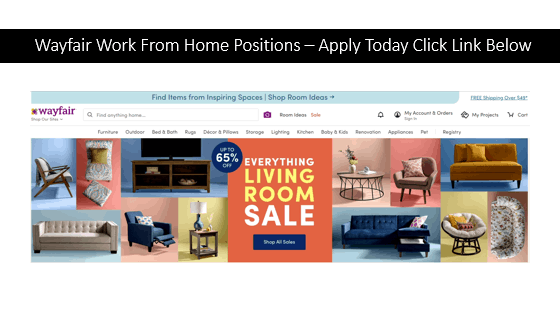 Wayfair Careers
Share Job
Copy of Work from Home-Customer Service Specialist Locations: Missouri, United States Categories: Customer Service
Apply
Job Description
At Wayfair, we care about our customers! Our award-winning Customer Service Team balances technology and human empathy to build customer trust and loyalty. From the time the customer orders with Wayfair through delivery to their home, our team works to make it easier than ever to shop for the home. The Virtual Customer Service Team works proactively in a fast-paced environment to monitor customer orders and ensure a seamless delivery to the customer. In the event a customer should contact our support team via phone, email, chat, social media, or in other ways, we empower our Customer Service Team to resolve the issue. We are passionate about our customers and work to delight them on every interaction with Wayfair.
What You'll Do
Troubleshoot and resolve customer service inquiries while building a relationship with the customer
Provide service to customers seeking assistance with post-order issues such as returns, replacements, refunds, delivery status, back order inquiries, and any other issues that may arise in the order fulfillment process
Exceed customer satisfaction, efficiency metrics and issue resolution targets
Continuously look for areas of improvement and communicate trends in customer calls to leadership as appropriate
Simultaneously navigate multiple software applications and technologies
Demonstrate conflict management skills and maintain professional composure
What You'll Need
Reside in the following states: Kansas, Minnesota, Missouri or Texas
Strong problem-solving skills and the ability to think analytically while working in a fast-paced environment
Excellent communication and relationship building skills
Passion for helping others
A successful track record working in a high-volume environment
Regular and reliable attendance
Bachelor's Degree or equivalent customer-facing work experience
Ability to maintain the required internet speed of at least 25 Mbps (download) and 5 (upload) to support voice traffic and HTTPS web traffic using a hard-wire Ethernet internet connection (no WiFi)
A workspace that is free from noise or distraction (Wayfair provides all necessary computer equipment)
About Us:
Wayfair is one of the world's largest online destinations for the home. Whether you work in our global headquarters in Boston or Berlin, or in our warehouses or offices throughout the world, we're reinventing the way people shop for their homes. Through our commitment to industry-leading technology and creative problem-solving, we are confident that Wayfair will be home to the most rewarding work of your career. If you're looking for rapid growth, constant learning, and dynamic challenges, then you'll find that amazing career opportunities are knocking.
No matter who you are, Wayfair is a place you can call home. We're a community of innovators, risk-takers, and trailblazers who celebrate our differences, and know that our unique perspectives make us stronger, smarter, and well-positioned for success. We value and rely on the collective voices of our employees, customers, community, and suppliers to help guide us as we build a better Wayfair – and world – for all. Every voice, every perspective matters. That's why we're proud to be an equal opportunity employer. We do not discriminate on the basis of race, color, ethnicity, ancestry, religion, sex, national origin, sexual orientation, age, citizenship status, marital status, disability, gender identity, gender expression, veteran status, or genetic information.
Work Remotely Position - 06/09/2019
Customer Success Manager Apply now
(product manager experience required)
Share
Anywhere in the United States or Canada
Customer Success
Are you a product manager who loves to interact with customers? Do you have a passion for solving complex problems?
Now, imagine this — you get to work directly with fellow product managers to change the way companies set product strategy and create roadmaps — all from your home office. It is remote work. Pretty great, right?
Customer Success at Aha! is unique and challenging. You should know that we think about customer support differently. And we do not have commissioned salespeople. Instead, our all-remote team works closely with customers to highlight what's possible with our software — from conducting virtual product tours to sharing product management best practices drawn from personal experience.
We are looking for a high-energy product leader who is ready to take a huge career leap forward. If this is you, we want to hear from you!
As a Customer Success Manager at Aha!, you will have an excellent opportunity to join a self-funded and profitable company that is growing fast. Aha! was founded by a proven team of product and marketing experts. More than 250,000 users worldwide trust our roadmap software to build and market products customers love.
We are looking for someone who:
Has at least 2 years working as a product manager (or equivalent experience)
Brings deep experience working with SaaS
Loves to showcase advanced technology to sophisticated customers
Writes exceptionally well
Wants to work on a team with other high-performing peers
We are committed to being great, and we want someone who:
Has a "can do" attitude and a history of delivering superb work again and again
Can work at a fast-paced company where the feedback cycle is measured in hours rather than weeks
Is seeking a career-defining opportunity on a proven, results-oriented team that has sold multiple software companies
We are building a distributed team, and you can work from anywhere in the United States or Canada for this role. We offer generous salary, equity, benefits, and a profit-sharing program.
Great Work From Home Opportunities - 05/13/2019
The Costa Rica Virtual Call Center (VCC) – It is a 'Work from Home' model for Costa Rica Customer Service. VCC associates are expected to work from a home location approved by Amazon for all scheduled hours.
– It is the responsibility of the associates to ensure uninterrupted internet connectivity and 'work-like' environment at home location so that associates can deliver their best in terms of productivity and quality.
– The ideal work from home Amazonian is internet savvy and has technical aptitude when it comes to online tools and research.
– The ideal candidates will be comfortable in a fast-paced, multi-tasked, high-energy environment.  They will be creative and analytical problem solvers with a passion for excellent customer service.
– Being able to work an assigned schedule that falls within our operating hours is required and expected. Typically, shifts include one or both weekend days and schedules may change throughout the duration of your employment. There may be at times overtime, based on business needs.